The Best Quality Brochures
Brochure Printing
We offer bi-fold and tri-fold brochure printing in three standard sizes: 8.5x11", 8.5 x14", and 11x17". We also print custom-sized brochures in dimensions ranging from 5.5x4.25" up to 26x12". A tri-folded brochure has six panels, while a bi-folded brochure has four panels. We also print multi-page brochures, so can tailor your design to your needs. To give your brochure a unique finish, we offer hot foil stamping and embossing, as well as die-cutting facilities so you can experiment with different shapes and sizes.
Brochure Printing In Dubai

Our printing company can help you advertise your business, products or services. A professional brochure design will attract the interest of potential clients and communicate effectively with your target audience. We offer all kinds of services brochure to flyers from Creative Designing to Quick Digital Printing or Economical Offset Printing. We are affordable solutions for all your brochure design requirements. We also give Quick Delivery Service for Local and Overseas Clients. We offer brochure design services from individuals to all sizes of companies. If you want more information on our brochure designs, brochure templates and brochure layouts, contact us now. Dubai is Right Place to get all your Flyers Designed and Printed.
A4 BROCHURES
A4 BROCHURES
A6 BROCHURES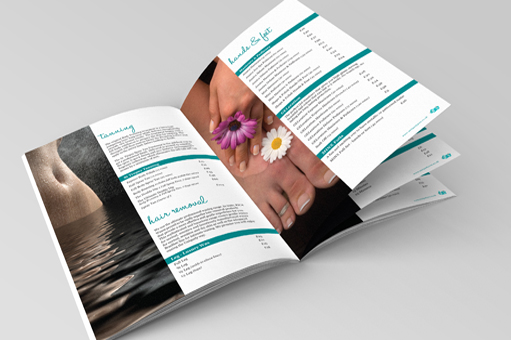 A4 TO DL BROCHURES
A4 TO A5 BROCHURES
A3 TO A4 BROCHURES
SIZE
8.5x11", 8.5 x14", 11x17", 5.5x4.25" up to 26x12"
------------------ How to Order ------------------
Hands down, colour is one of the most commonly misunderstood topics in printing. We specialize in full colour CMYK printing. When preparing your data, please take note of the following:

Sorry! No Pantone. CMYK Please.
We do not print Pantone colours.
Any data submitted with Pantone swatches will be converted to CMYK. You should expect a colour shift if your data has Pantone colours.
Screen colours are not right colours.
Screen colours are different than Print colours.
Monitors. TV screens and Phones show colour in RGB (Red, Green, Blue) using light. Printing on paper is done by combining 4 colour links: CMYK (Cyan, Magenta, Yellow & Black).
Note: Colours will come out different if you are submitting RGB data for CMYK printing.
Colortrack will not be held responsible nor reprint orders due to poorly prepared data. If in doubt please contact our Designers for more information on how to prepare your data.
Searching For Best Brochures Printing In Dubai
We Are Providing Best Brochures Printing Dubai
Do you want a Brochures Printing? Or Looking for best printing company for Brochures Printing, then you came to the right place. We are expert in Brochures Printing in Dubai. We are one of the top Brochures Printing company in Dubai.
Color Track has a team of experts, which are proficient of graphic designing and are highly talented and dedicated to their work. We provide the Best Brochures Printing Services in Dubai. Color Track has dedicated graphic arts professionals who seek to use our creative skills to improve the results of your printed documents and sales and marketing materials.
Color Track can make your Brochures Printing just the way you wanted. We are also proficient in Logo Design, Name Plate Printing, Business Cards Printing, Letter Heads Printing, Complimentary slip Printing, Invoice Books Printing, Voucher Books Printing, Envelopes Printing, Brochures Printing, Flyer Printing, Stickers Printing, Vehicle Sticker Printing, Vinyl Sticker Cutting, Sign Board Printing, Identity Cards Printing, Name Badges Printing, Flax Printing, Banner Printing, Posters Printing, Greeting Cards Printing, Heat Transfer Printing, Gift Items Printing.
Contact Us For Best Brochures Printing Dubai